Let me start off this post by saying John has done ALL of the blogging for this trip...I was just the photographer and for this I am truly grateful!!
Flight from Boston to Frankfurt Friday night June 18, 2010
We were in coach and as Emma and Henry say this is the worst class but is was fine. They were expecting business class like last year's trip to Europe but no such luck. Emma fell asleep quickly and slept a good 3-4 hours. Henry struggled to fall asleep but the help of some cough medicine he was asleep for almost 3 hours. Jocelyn appeared to have slept for a while along with myself. I did wake up and watched a german movie about the 1954 world cup. The rest of the family enjoyed some shows as well because the seats provided individual tv/movie options. Landing in Frankfurt it was cloudy and cool. I realized the airport was under renovation and certainly bigger than I remembered. We managed to get to the main gate and quickly realized we had to get to gate a21 which was move involved than anticipated. After 2 security checks--the children and I ran to the gate while Jocelyn finished the security including going to another security room to verify her video equipment. Jocelyn made it as well and we got on the flight--thanks to several accommodating travelers that let us jump ahead in line. The flight to Rome was good--thankfully Lufthansa always serves some food that is tasty.
Upon landing in Rome we quickly realized that we were no longer in the uber efficient German mindset--the airport was outdated and certainly nobody was is any rush. At baggage claim the language came slowly on an antiquated distribution system--every comment Jocelyn made was followed by a german couple saying the same things in German about the efficiency. Luggage in hand (Jocelyn's comment to Henry good boy good boy when Henry grabbed the luggage) we went to the central auto rental location-- a completely inefficient system. Jocelyn and the kids waited at a walking crossroads and played cards while I picked a number and waited. The rental car experience was great comedy because I waited with my ticket in a small area the was crowded with approximately 6-7 car rental companies trying to get their customers to their cars. I had number 262 and the first time a saw the sign it read number 248-ok not so bad or so I thought. Slow motion with every representative taking numerous breaks, shouting at each other at the customers --something out of a comedy act. Finally my number was up and the dude helping me out took my reservation and for the next 15 minutes he was bagging on his keyboard like a madman shouting at his colleagues excuse excuse. I could not help myself and starting laughing because this was some of the best comedy I have seen in a while. Finally he confirms the car rental and mentions that he can provide me with an upgrade because of the waiting so I passed on the tight Alfa Remo and taking the more accommodating Audi A6. We loaded up and we are out of there on the the autostrada to Firenze.
Driving out the airport and onto the highway Henry commented it looks like Florida and we all agreed. We figured out the directions and picked up the toll ticket and realized we need to stop and get Euros. The first rest stop the atm was closed but we managed to buy some great sandwiches along with snacks and ice cream--at the Autogrill. Next stop atm working we picked another ham and cheese sandwich on great bread. Navigation was tricky but we found LaFoce in Tuscany--the kids napped in the car. Jocelyn commented that while she understood traveling by the seat of your pants but we were really traveling by the seat of our pants--perfect.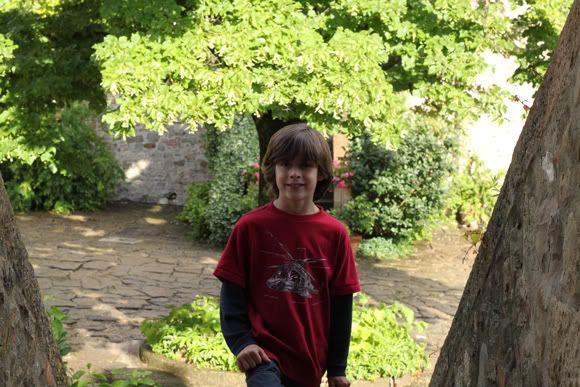 View from our door onto the courtyard.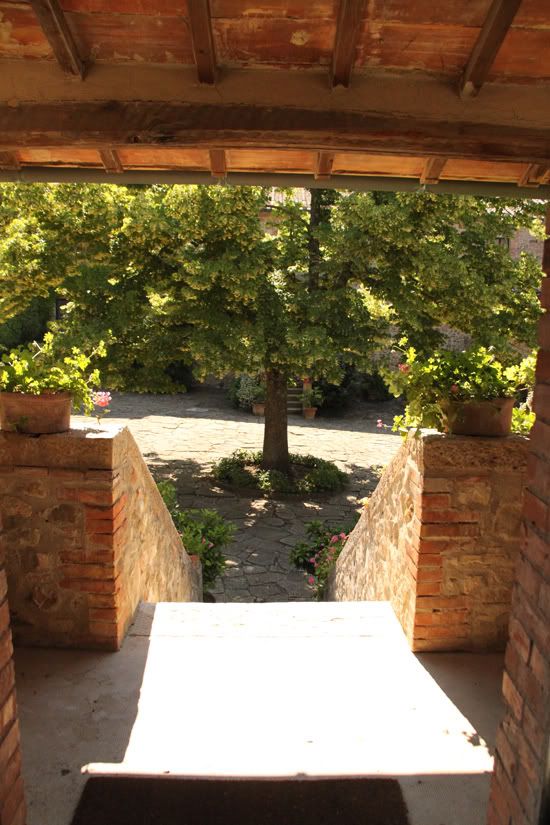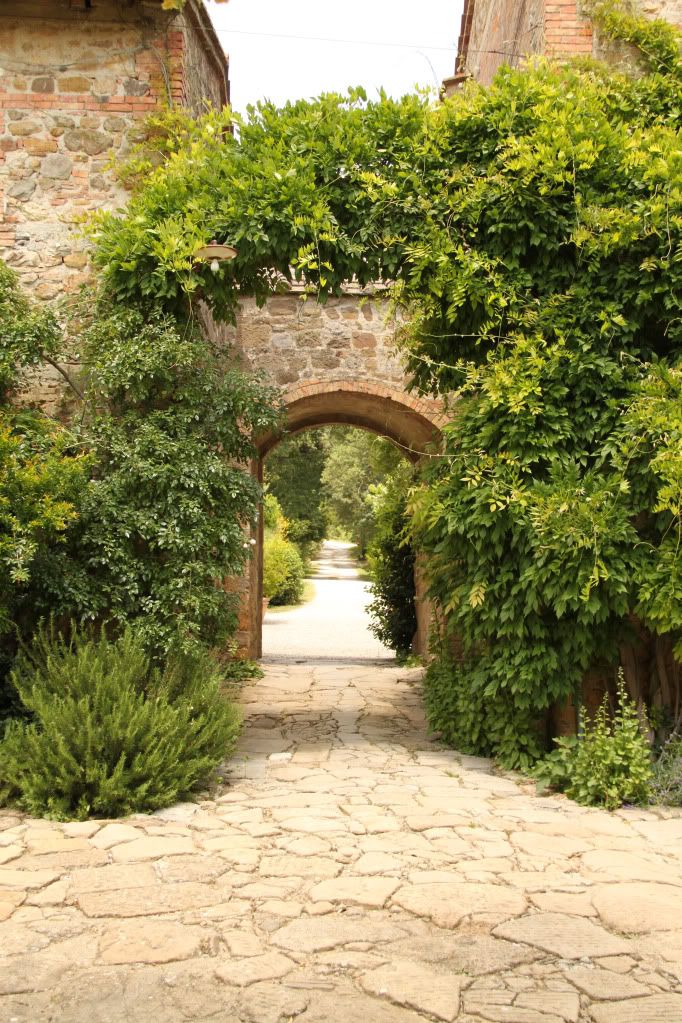 Walkway coming into our Villa.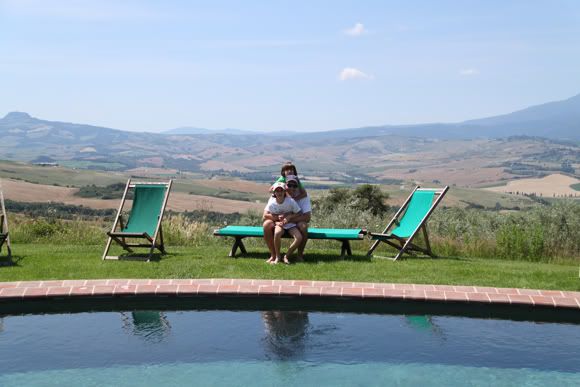 View while sitting at the pool.

The pool.
Arriving at LaFoce at 6:00pm we realized instantly that this place was something special. Our villa was awesome the views breathtaking and we were pleased. That night we ate dinner prepared at our villa that was outstanding combination of pasta and vegetables. Off to bed to catchup on our zzzz.
After all of us getting a good nights rest. Unpacked and showered we went out in the cold rain to a breakfast place and planned our day. We drove to Montapulicano along a scenic drive-- rain stopped and we walked this beautiful town. Henry bought a soverner and Emma looked for something but nothing caught her eye. Jocelyn and I stopped in a great wine and cheese shop and before we knew it we drank 4 small samples of some great local wine and ate great sheep's milk cheese. Next stop Pienze-great lunch. Great town to explore and of course I saw some interesting statues and commented to Jocelyn bare assed about one of them and the kids heard it. We realized lunch is served from 12:00 to 14:30 so we caught the late side of that which was perfect. No need in Italy for the restaurant owners to maximize their profits because if all seats are taken that is all they will be serving that day. Thankfully for us it worked out perfectly. Headed back to LaFoce after a nice day of touring 2 towns great history and beautiful churches.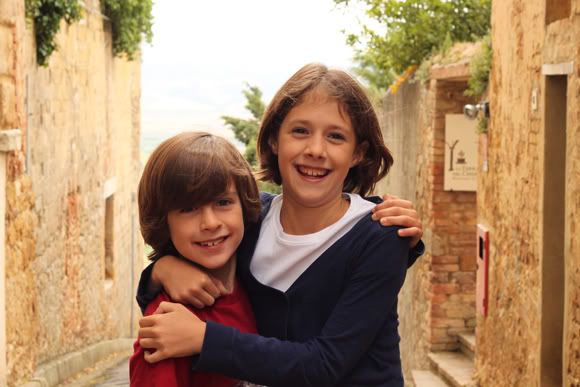 I realized that all the towns in Tuscany are built with same concepts with Florence rising above as the largest because of the Medici family. Nap time for Emma and Daddy. Mommy and Henry played memory games while it rained. We woke up to beautiful sunshine and played with Henry at a treehouse we found on the property. The grounds are beautiful with birds singing, horses living outside our window. We meet and spoke with another family from DC that were traveling the world in 4 months. Off to a great dinner in Chiancino-Patry. Emma ate my Seabass and Henry tried everything including 3 bowls of gelato-Jocelyn started keeping track of the different foods the kids tried. We were all full and pleased with our restaurant choice--great owner named Luigi. Off to bed at midnight--quick read on LaFoce tips-watch out for snakes in Tuscany that can bite and requires medical attention. Exactly what Jocelyn wanted to hear before going to sleep.