Henry has been obsessed with the Geronimo Stilton series all summer long. He plows through the books every night. He loves the adventures that little Geronimo takes him at the end of his day. I can usually hear him giggling in his room at all the funny things this crazy mouse does.
What a great set of books for kids!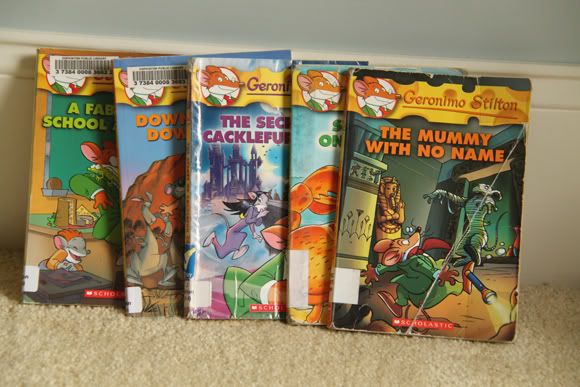 This brings us to the tale of our second mouse.......
This is not Geronimo Stilton but it might has well been to Henry. He was so sad that we had killed this "helpless" mouse. He told me that this mouse probably had his own adventures like Geronimo and that he was no longer able to have them. He also hated the way the trap had flipped him over... His final question was "do you think that he enjoyed the peanut butter?" All I could think to say was "yes, I am sure that he did." (just before the trap sprang and killed him)